We've been watching a lot of 80's movies lately. Not sure why... Maybe the TV networks are just feeling a bit nostalgic for fun music and bad fashion, who knows? Either way, we've been enjoying it, but it's also given us a lot to think about. So many classic movies from our childhood have been - or are about to be - remade. It definitely brings up mixed feelings.
On the one hand, we love these movies... who wouldn't want to relive them? On the other hand, there really only a small chance that anyone will possibly be able to do these films justice. Yes, we realize that a lot of these films actually totally sucked, but they sucked in a good way. It's very hard to reproduced the correct ratio of cheesy-to-awesome. There have been a lot of remake rumors over the years. Some totally great (like
Tron: Legacy
) and some totally terrifying (like an
Adventures in Babysitting
remake
starring Raven-Symone
). Some of the choices are just puzzling... like
reinventing Fame
as a squeaky clean teen flick or casting
Chace Crawford in the new Footloose
. Sure he's pretty, but can he dance?
We admit we were a little disappointed when we heard the news that Zac Efron was taking a pass on the
Footloose
remake. He seemed perfect to fill Kevin Bacon's shoes. But then the other day we were watching TV and realized that there is a much better 80's remake idea for him:
Teen Wolf
! No, really.
Unlike some classic 80's flicks like
Weird Science
or
Red Dawn
that
just would not translate
to our 21st century world,
Teen Wolf
is a story so timeless it could take place in any decade. Plus we know how much people love to cast Zac Efron as a
high school basketball star
. (And really, if there was ever anything more implausible than Zac Efron as a basketball star, it was Michael J. Fox as one).
They even almost look alike: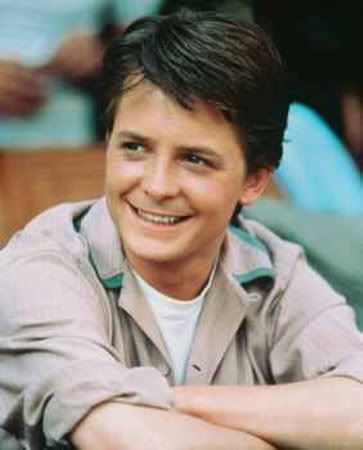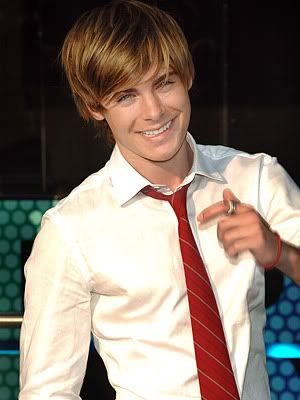 Actually,
after
writing this, we googled "Zac Efron Teen Wolf" on a whim and realized that we're not so far off - there
is
a remake in the works and
he is being considered
. (We are always right on top of this shit). He probably won't take the part, but we're keeping our fingers crossed. We'd also throw
James Lafferty
from
One Tree Hill
into the cast too - he's cute and he has years of experience playing a high school basketball star and dealing with totally implausible plotlines.
There are other 80's movies we'd secretly love to see remade (but of course we'd claim to be totally offended if anyone
actually
attempted to redo them)... like
Little
Darlings
. We all know that Miley Cyrus is going to want to take some
more serious movie roles
after
Hannah Montana
... what could be better than losing her virginity at summer camp? America's favorite robot Kristen Stewart can co-star, because after
Twilight
she deserves a movie with some actual sex in it. It's at least got to be a better movie than
Rhinestone 2: Still Rhiney.
And while I really hope that the
rumors of Miley starring
in a
Girls Just Wanna Have Fun
remake are totally, utterly false... I
would
love to see
that movie
remade. Screw Miley - if they're going to insist on going Disney, I'd rather see BFFs Selena Gomez and Demi Lovato co-star. How cute would that be!? Or maybe Gossip Girl
besties Blake Lively and Leighton Meester.
Speaking of Blake Lively, did you know that her older sister Robyn was the star of

Teen Witch

? Which means that Blake would have to appear in any remake - such as the one rumored to be starring Disney darling A

shley Tisdale. It's the law.



And since it's a little known fact that we will watch almost anything starring Amanda Bynes (can't exactly explain why we love her, but we just do)... who else would we cast in a fantasy production of

Sixteen Candles
?
She was already adorable in She's the Man
(which, although not technically a remake, had pretty much the same premise as Just One of the Guys
).
In fact, she could re-team with co-star Channing Tatum as Jake Ryan. Not too many of today's current "hotties" are actually hot enough to pull off that kind of role and luckily there wouldn't be too many lines to confuse him. But they would have to add in an extra scene or two where Chan takes his shirt off. Please...
There are other 80's flicks that Hollywood is already attempting to remake. We're not quite sure if our reaction is horror, morbid curiosity, or breathless anticipation. Probably a combination. Some of these include Ferris Bueller's Day Off
(the proposed script is actually for a sequel, with Matthew Broderick reprising his role as Ferris 20 years later) and Bill & Ted's Excellent Adventure (without George Carlin can it possibly be any good?)
There's one classic that we hope never gets made: The Breakfast Club
. There's just no way they could ever do the original justice. But the more we thought about it, the more we wondered which of today's young stars would fill the shoes of the infamous brain, athlete, basket case, princess and criminal... and we came up with some hilarious ideas.
On second thought... no. Let's just forget about that one.
What are some of
your
favorite 80's flicks you'd like to see remade... and your fantasy casts?