If you're a fan of
RuPaul's Drag Race
then you've probably heard about last night's "shocking" elimination. Just when we thought that we were either going to lose our beloved Sharon Needles or finally be rid of the nasty negative toxic and horrible Phi Phi O'Hara, RuPaul announced that instead it would be challenge winner Willam going home for "breaking the rules".
They never explained exactly what happened, and apparently we have to wait until the reunion special to get more details. Honestly, we don't even really care that much, we're just pissed that Willam's gone. Yes, she could be obnoxious at times, but for us that was part of her charm, and we think she's hilarious and entertaining. Now that Willam's gone, we're team Sharon Needles for the win.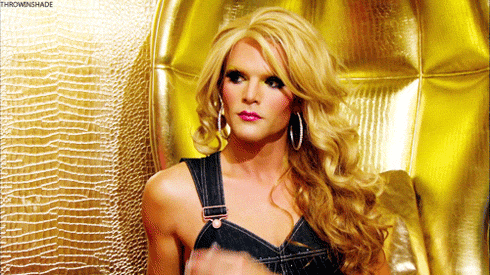 We've developed a three step process to deal with our Willam withdrawal, so if you have a lot of feelings about this like we do maybe it will help you too:
1. Vote for Willam for RuPaul's Drag Race All Stars:
VOTE!
(You can vote once per day so you can get in some votes for some of your other faves too.)
2. Vote for Willam as Most Addictive Reality Star in the NewNowNext Awards:
VOTE!
3. Check out Willam's new song Chow Down (at Chick-fil-A), a hilarious collaboration with Detox and Vicky Vox. As Willam explains, it's the last endorsement that the
conservative Christian chicken chain
would ever want:
How did that come about?


Well, I wasn't a big Chick-fil-A fan, I guess, I never really knew about them because I'm from Philly and they don't have them there. I was eating there with my girlfriends and they were telling me how [they support anti-gay organizations]. I was like, "Oh that sucks about the gay thing." And then, I got diarrhea from it, so I was like, "F— this, I'm gonna write a song." The fact that they come after gay people, let me come for you. The worst endorsement for a Christian chicken eatery is three drag queens. So it's like, "Alright, alright, boo." In reality, I just wanted to wear a bobbed wig. [EW.com]
We feel better already.